Track your team fines and ensure justice is served
Ever been on a team where each week someone records the 'fines' on a bit of paper, and then loses it before the end of the season? Or worse, before the end of the game? Register with us and it won't happen again!
The Kangaroo Court lets you record all of your fines online, so that during the season you and your team can keep track of where everyone is up to. Sports teams love the fun & banter it generates, and best of all... IT'S COMPLETELY FREE.
It's easy to get started — Register today, and make sure justice is served on your team!
...here are some recent fines from other teams...
Fine
Charlie non-hustle fine (1 fines)
Diva fine (0.75 fines)
Bad Teammate (0.5 fines)
Court - Transgressions (0.5 fines)
Court - Transgressions (0.5 fines)
Crimes Against Rumble Pony Rules (0.5 fines)
Crimes Against Rumble Pony Rules (1 fines)
Have a sneak peek at what else is inside....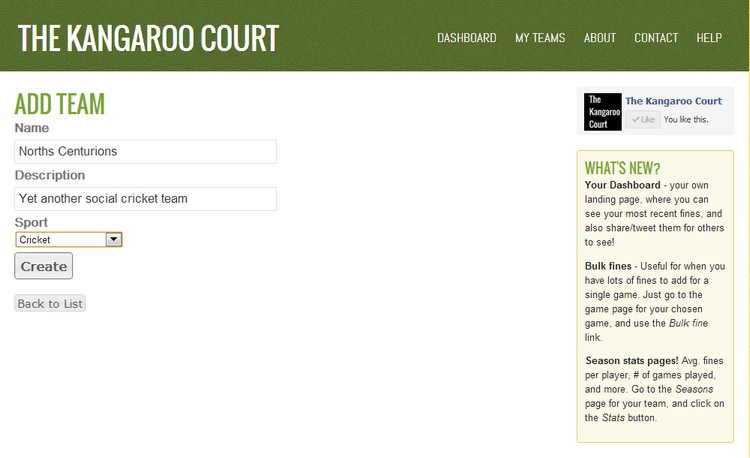 Manage your team/s.

Record each game you play.

Add fines for 'bad behaviour', either on or off the field!

Each player can view and share their recent fines.

Compare player performance with stats.

The Fines Report lets you keep up with player 'progress'.

Group the fines by either player or game.

Record fine payments and track any outstanding balances.
If you're not familiar with the concept of a Kangaroo Court, check out our About page, or Wikipedia. Use the site to record and track your fines for each game, then at the end of the season (or more often for some teams) you can print off the fines report to use as you see fit - most likely at a Court Session of some sort! We also provide regular email notifications to players when they receive fines, to keep everyone on the team involved.
What can you be fined for?
Whatever your team decides is worth a fine (and possible punishment). It could be an on-field offence such as a dropped catch, or an off-field misdemeanour like missing training, turning up hungover, etc - it's entirely up to you. If you need some inspiration from other teams, check out our Fine Schedules page, which lists the common offences, fines, and rules that other teams have chosen to share.
Want to share your own team's fine schedule with the world? Then register, add your team, and create your very own fine schedule or all to see. Currently we have example schedules for cricket and baseball, so if you play another sport (golf, rugby, softball, etc) we'd love to see what sort of fines you have!